ACE Landscape Services, Prahran Square (VIC)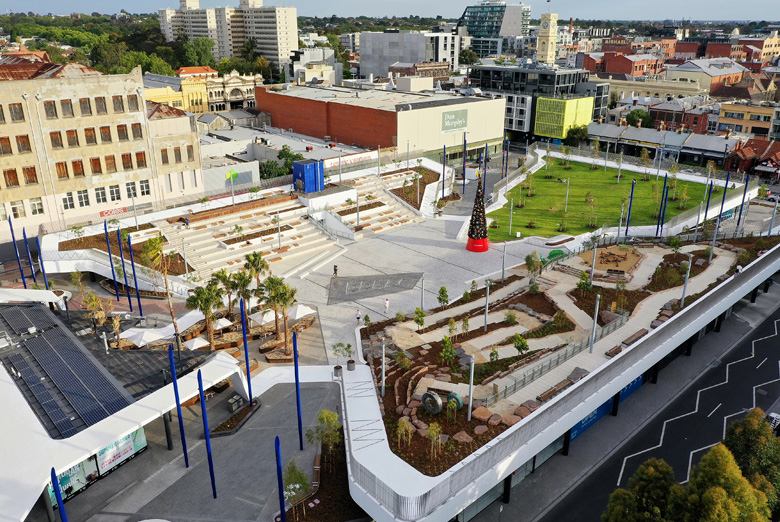 CATEGORY: Commercial Construction over $1M
PROJECT BRIEF

Prahran Square is a spectacular architectural community piazza area. The city of Stonnington's $60 million plus transformation of the old Cato Street carpark in Prahran delivered around 10,000 square metres of multifunctional urban parkland that sits above the 500-space carpark.
This project was a first in Melbourne to turn a hard, unfriendly surface into a soft greenspace for the community. The ACE landscape team were a crucial part of the redevelopment of the modern urban plaza.
ACE Landscapes completed the following scope of works:
Hardscape incl exposed aggregate concrete and paving
Precast seating
Street furniture
Timber decking
Structural void form build up
Garden beds incl blowable soil install, planting, mulching and irrigation
Feature structures
Playground elements
Turf
Demolition and excavation
Road preparation and Asphalt installation
Maintenance
With over 5100 square metres of concrete poured, 2570 square metres of paving installed, 1500+ cubic metres of soil pumped, 4750 square meters of asphalt roads laid, 150 trees planted along with 7250 plus plants installed, it was the first project of its kind in Melbourne that was successfully completed.
JUDGES COMMENTS
"The quality of materials used throughout this project by ACE cannot be questioned and the well-selected plants add to the textural layers of the space. Soft landscape items such as garden beds and lawns are well drained and showing excellent growth. The attention to detail shines throughout the features of this landscape and with a high degree of difficulty in construction, the finishes show off the skills of the tradespeople involved.
"A multi-million dollar project such as this also requires exceptional Administration and Project Management and this project is a credit to those involved behind the scenes."