Ausplay Playscapes, Sippy Downs Early Learning Centre (QLD)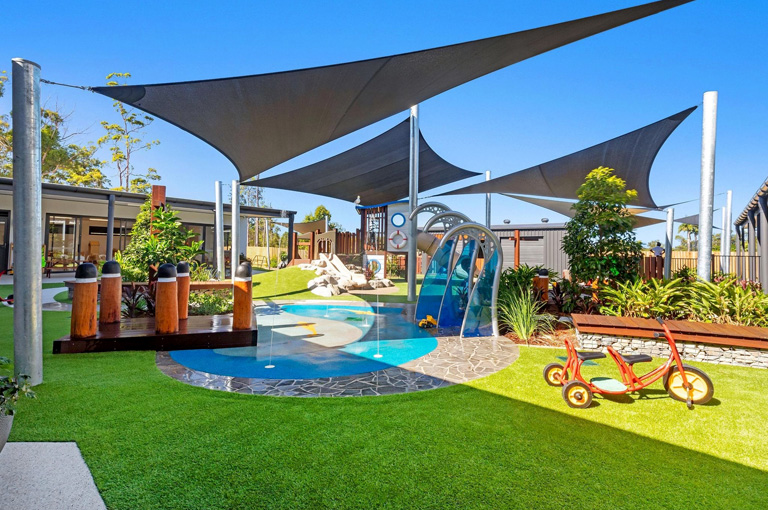 CATEGORY: Commercial Construction up to $500,000
PROJECT BRIEF
With proximity to the coast, Sippy Downs Early Learning Centre aimed to celebrate the local environment throughout the centre and outdoor play space. The coastal inspiration is immediately evident in the unique, custom designed water play zone. Fabricated 'Wave' water sprayers with decorative coloured panels create a dynamic focal point, which are supported by in-ground water jets and themed wet pour rubber surface. A deck with expressed carved log posts creates a "Jetty" appearance.
A custom play fort is built into an artificial turf and boulder mound, creating a flowing play environment, and mimicking the outdoors. The fort itself has details such as the 'wave' roof, circular 'porthole' window and custom laser cut patterned windows to further enhance the theme. A standout element of the creek bed that leads to 'rock pools'. Intricate rock pitching creates shallow pool points that can be controlled with incorporated sluice gates. It was essential that design levels be achieved to allow water to trickle, pool and drain safely. Small starfish sculptures have been included amongst rocks for additional detail and discovery.
All elements within the play space, including forts, sand pits, barnyard, nature trails and slides met strict Department of Education requirements for Childcare and the Australian Standards for Playgrounds and Softfall. Plants were carefully selected for safety, sensory stimulation, and outdoor learning opportunities such as bush tucker.
The site required extensive coordination with other contractors due to many services, easements, and service pits throughout the space. Many existing services also dictated surface levels, which resulted in challenging level differences needing to be overcome by detailed site planning and accurate construction.
JUDGES COMMENTS
"The play landscape for this project was expertly completed with an extremely high level of detail and
care for the early learning play environment. All finishes combined to create a safe low risk play space
with well grouted rock boulders, safety caps on deck edges, non-slip wet areas and no trip or fall
hazards.
"The play space is inviting with a range of materials and colours and includes water play,
misters and custom fort. The play space has stood up to the harsh treatment of heavy use and the
contractor should be proud of the enduring quality and finish that they have achieved on this project."