Climbing Tree Creations, Kurrajong Playspace (SA)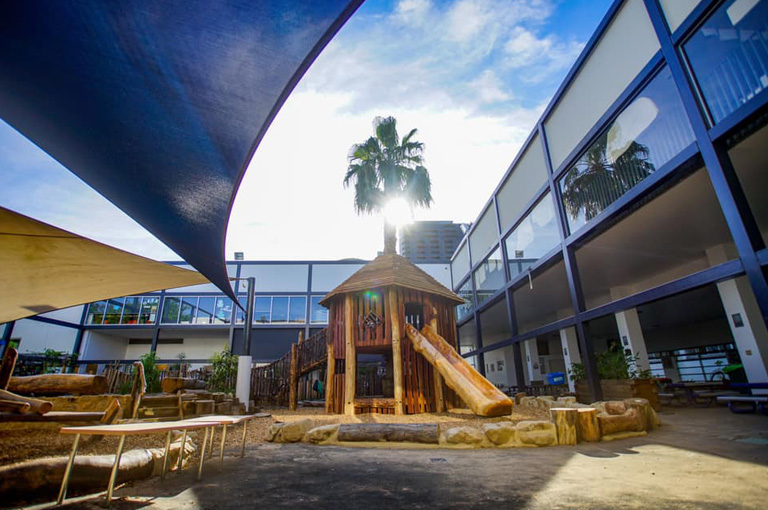 CATEGORY: Commercial Construction up to $500,000
PROJECT BRIEF
Situated in a two-storey courtyard with glass frontage, the site was an incredibly challenging space due to access limitations and its use as a common thoroughfare. The design achieved balancing its functionality as an all access walkway, an outdoor classroom and learning space, and an engaging and adventurous place for children to play and explore, while also ensuring an aesthetic appeal from the curbside.
The entry path meanders to an elevated central meeting place, overlooking four individual play areas. The foundation of this design was based on the Kaurna symbol for "coming together". Elevating the central meeting area and varying the levels of individual play areas offers increased sense of adventure.
In the first play area a log scramble was designed to provide opportunity for gross motor development. Near the log scramble an interactive watercourse leads under a bridge to a second play area consisting of a large sandpit with fairy houses for imaginative and sensory play and raised vegetable garden. The third play area is connected via a tunnel and green living arbour, while final area features a large treehouse tower designed around the 30 metre existing palm, accessed by a log scramble.
The sites integration of tunnels, arbours and bridges seamlessly connect the different play areas beyond the use of the paths. The differing elevations and undulations offers places for both seclusion and surveillance and gives the illusion of a more expansive space.
In supporting the client's work by incorporating Aboriginal culture into all aspects of education, Kaurna symbols and cultural themes underpin the construction.
Priority was placed on the inclusion of reclaimed materials and natural timbers, which are sustainably and locally sourced from local SA timbers and are offset by the planting of new trees. Specifications for construction were made to ensure wooden elements with a high resilience and long lifespan were utilised to ensure longevity.
Overall the new site incorporates wheelchair accessibility to all elements and allows for varied interactions.
JUDGES COMMENTS
"The attention to detail on this unique construction is truly amazing. This project represents a bespoke and unique solution that pushes the boundaries of traditional landscape construction for playspaces."