Distinctive Gardens, Kyros Residence, Medindie (SA)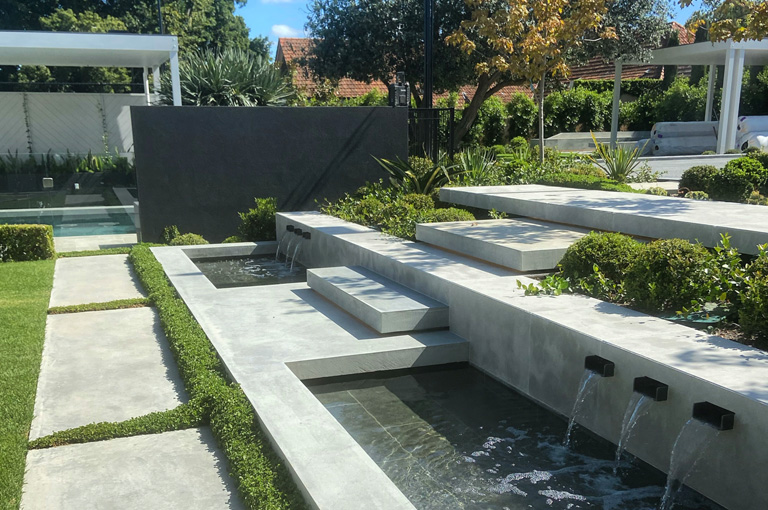 CATEGORY: Residential Construction over $250,000
PROJECT BRIEF
The soft landscaping was developed to achieve a lush resort-like feel. The hardscaping had a lot of Garonne stone specified in the build, which was also incorporated into the garden areas – without overdoing it. Off-form concrete was introduced into the firepit, pool bar, and used for steppers across the design.
The layout of the pool was already in the plans, as well as the tennis court. Distinctive Landscapes designed and built the firepit in the back garden, as this area wasn't being used previously, in order to draw users into the back garden and experience the underutilised space.
Two water features were added to the landscape, creating important visual focal points from inside the house and as you walk through the garden. The main water feature and stairs were created as a bold statement looking out into the garden, and the addition of lighting makes it really come to life at night.
The courtyard features are soft and welcoming as you walk up the stairs into the new extension, while providing visual appeal from both the new and the old parts of the house.
JUDGES COMMENTS
"It is undeniable that this garden was a WOW moment for the judges. It was truly breathtaking. Designed and constructed to the highest standard. The design was extremely well thought out, impressive and functional and the landscape construction techniques were second to none."
"This was a breathtaking and cohesive design, suited to the traditional residence and modern extension it surrounds. This garden clearly suited the client's brief, and commanded that you take a closer look."
"A clearly impressive project finished to the highest standards! The landscape construction techniques displayed here area standard that the constructor should be truly proud of."