Earth Creation Landscapes, Sunshine Beach (QLD)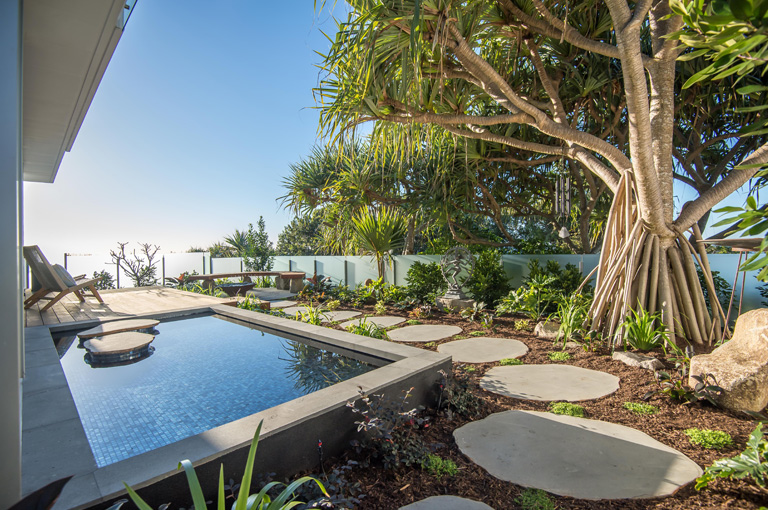 CATEGORY: Residential Construction $150,000-$250,000
PROJECT BRIEF
A new home build, this transformative garden was designed as a space "of contemplation, so [they] can see the stars at night and the reflection from the pond from inside the house" according to the client's wishes.
A private, peaceful paradise, this Sunshine Beach residence features a usable entertaining space in the front garden that accommodates seating. The curved timber and granite seat is orientated to allow the homeowners to enjoy the entire garden. A custom-made firepit is surrounded by natural sawn bluestone paving and stepping stones, which is also reflected in the pond coping. Plenty of tropical planting softens the hardscaping elements and generates a soft, lush feel.
A noise barrier in the form of a naturestrip was created, making a beautiful tropical screen and enhancing the existing Pandanus. A small number of plant varieties were chosen and planted in mass for their ability to withstand the gusty sea breezes. The existing rotten edging was replaced with Corten Steel to be consistent with the overall design as well as making lawn mowing/edging easier.
All the gardens have lights strategically placed in them, connected to a light sensor and existing home automation. Every garden bed is connected to an automatic irrigation system and includes Rainbird popups, Naan Dan Jain garden sprays. This is controlled by a Rainbird Bluetooth compatible controller connected to a rain sensor.
The existing outdoor shower was also renovated and given a new look. The clients wanted to shower together, have privacy from the neighbours but still wanted to see the ocean. The "snail shell" footprint, clad in Spotted Gum, with random bluestone paving to match the front garden is not only functional, it works as a garden sculpture.
JUDGES COMMENTS
"This landscape is a demonstration of exceptional craftsmanship! Where every joint line, every screw fixing and each component was meticulously measured, considered and executed in the most precise and effective way. The precision of the finish to the reflection pond was flawless. The construction of the firepit bench was delivered with accuracy and care, resulting in an excellent outcome. A truly stunning landscape that extols the skills of the landscape contractor."