Earth Creation Landscapes, Sunshine Beach (QLD)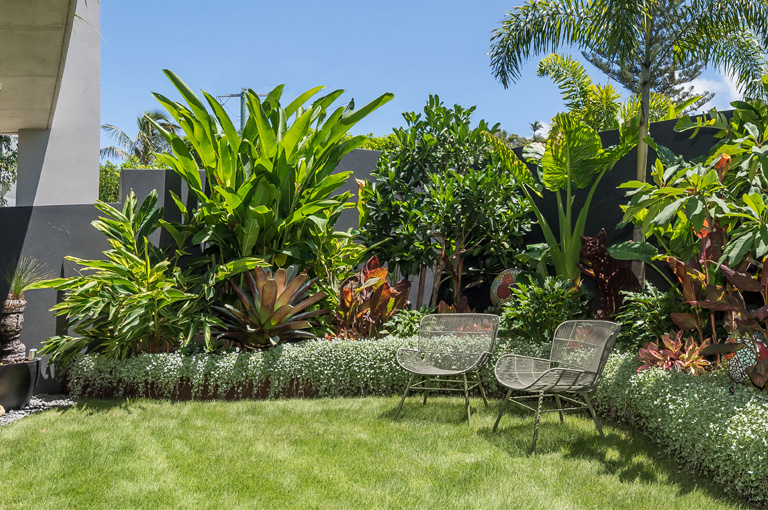 CATEGORY: Residential Construction up to $70,000
PROJECT BRIEF
When your client tells you that you have to turn a small front courtyard that looks like a war zone into a tropical sanctuary, suitable for yoga, you know it's going to be a great project.
The property was predominantly taken up with the home. The site orientation was exposed to high salty winds, extremely hot westerly sun, large areas of overshadowing from the home, and the entire site was sitting on a sand dune.
The areas we had to make look lush and inviting were only small, limiting our plant selection and making us think outside the box. The Corten steel retaining wall was selected because its footprint is only narrow and allowed us to create the lovely sweeping curve, which was essential to give the courtyard a sense of calmness.
The plant selection was chosen to create privacy, a false send of depth in the courtyard and, of course, the WOW factor.
In order to make the plant material flourish, the majority of the existing sandy soil was removed. The entire site was filled with a special blend of Coir, super soil, fertiliser, then mulched with Hoop Fines. This was done to guarantee maximum plant health and minimise ongoing maintenance for the clients.
All garden and turn areas are irrigated with an automatic irrigation system. A combination of Rainbird turn sprays, controllers, rain sensor and Naan Dan Jain garden sprays has everything watered nicely. Accessing all areas of the garden was difficult, with limited provisions.
For such a small site, the team was able to create a tropical sanctuary where anyone would love to do yoga.
JUDGES COMMENTS
"This oasis in Sunshine Beach is a fine example of a small landscape being able to provide a major impact on the liveability of a space. High quality workmanship has assured the success of this tropical sanctuary. With soft curves and luxuriant planting, it has become a space that complements the home whilst meeting the clients brief."