LCS Landscapes, Wilfred Taylor Reserve (SA)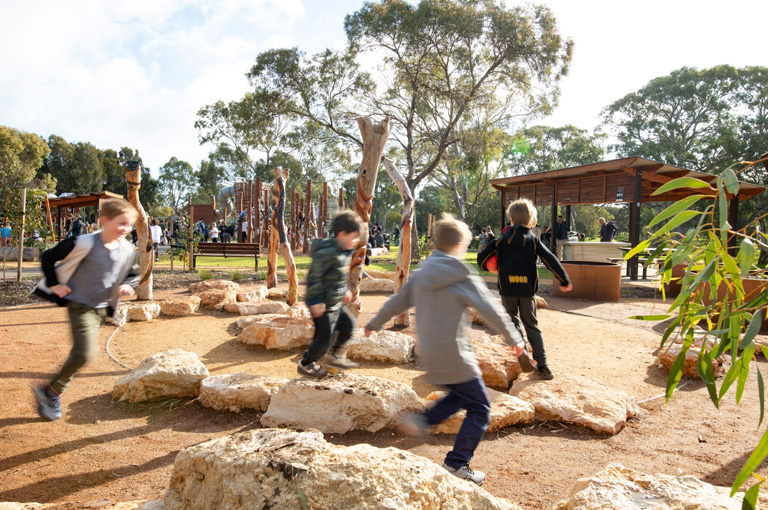 CATEGORY: Commercial Construction over $1M
PROJECT BRIEF
Wilfred Taylor Reserve Nature Playspace is the largest regional playspace in Adelaide's South. It is the first project to be delivered in response to the Wilfred Taylor Reserve Master Plan (2019) and attracted over 50,000 visitors in its opening month.
The project creates a community destination and provides a place for people of all ages and abilities to explore, roam and enjoy the reserve's natural environment. Highlights of the project include:
Nature and farm themes featured as a tribute to the site's importance for Kaurna people, and the site's history as a working farm from the 1840s to 1960s.
Integrated inclusive play opportunities including play equipment, sensory gardens, and education play items.
Grassed open spaces for events and ball games
Public amenities to allow families to stay and explore throughout the day
Wilfred Taylor Reserve Nature Playspace has demonstrated best practice in project management and construction of a large multifaceted project, which ensured the project was delivered on time and within budget, despite complexities during the staged construction process.
The playspace includes custom play equipment and a junior nature play, with sand and water play mound, public amenities, network of pathways and a large open-space turf area. The mixture of materials allowed for greater innovation of custom elements and provided Wilfred Taylor Reserve with play elements not yet seen in Adelaide.
The $2.2M project was jointly funded with the State Government and Council.
JUDGES COMMENTS
"The skill set involved to achieve the quality outcome of this project is impressive. A diverse landscape construction methodology and project management has been implemented extremely well."