Living Style Landscapes, Birtinya (QLD)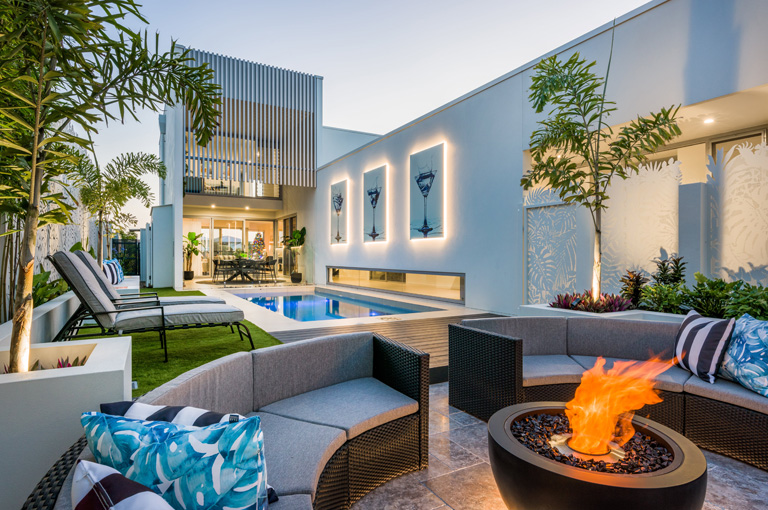 CATEGORY: Residential Construction $150,000-$250,000
PROJECT BRIEF
For our Birtinya clients, America had been a big part of their lives and they wanted to incorporate the style that they had become accustomed to and loved in the States into their new home on the Sunshine Coast. This unique style was evident in their design which was bold and strong.
Extensive block walls were installed to the entry, pool area and canal side of the property, one to create an entry void to look into the landscaped pool and firepit area and also as fencing, garden edging and garden beds.
The use of custom designed decorative screens cut in 3mm high grade aluminium and powdercoated white. These were used as a screen to block off neighbours at nearly three metres tall. Also used in the pool area as pool fencing and pool gate, this being perforated and therefore pool safe.
Lighting was an integral part of the design bringing the features to life at night such as the client's Bold artwork on the pool wall which was back lit making an awesome display. The use of LED lighting strips installed under the custom concrete floating seats was also used throughout as well as other garden lighting. The use of Smart technology was installed connecting the Zimi home automation system to the lighting.
The project was to be low care/maintenance, therefore synthetic turf was installed throughout. Endurodeck Decking was installed in the pool area and on the canal side as an entertaining space including steps and bar.
Tying all the areas of the project together was the use of lush tropical planting including large bamboo and palms and feature pots.
JUDGES COMMENTS
"This project was completed to a high level of detail with exceptional craftsmanship and compliments the house providing outdoor entertaining, relaxing, and artistic spaces for the owners to enjoy. Clean white painted walls frame and contain the boldly contrasting lush green planting. Custom perforated screens provide both privacy and pool security and add an art element to the landscape. Decorative lighting strips under seats, steps and behind wall mounted artwork is both unobtrusive and bold in its impact. Neat finishes to decks, paving and synthetic turf ensure smooth transitions and an easy to maintain enduring landscape outcome."