Yards, Hawthorne (QLD)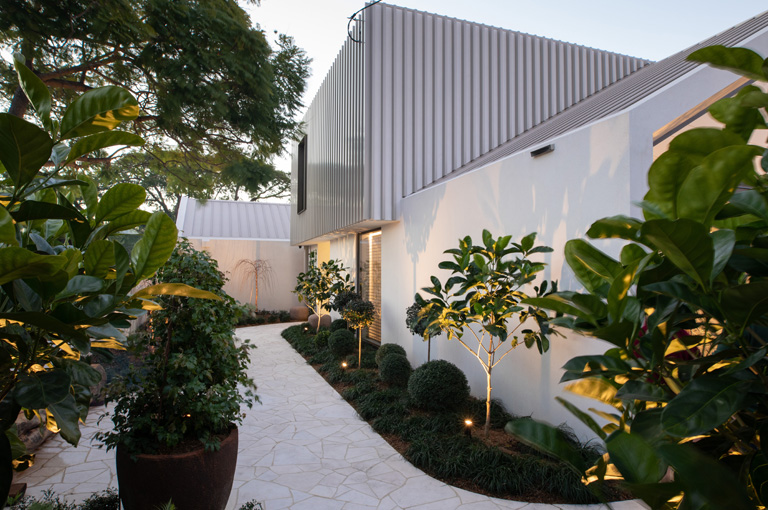 CATEGORY: Residential Construction up to $70,000
PROJECT BRIEF
Yards were invited to create landscape design concepts to work within the small boundary of this modern new build in Hawthorne. The client, being an interior designer and having a background in architecture, as well as being a garden lover, had particular aspects she wanted to cover, including certain viewpoints from inside the home.
The design process commenced, in collaboration with the owner, who had some key non-negotiables in terms of the planting. We developed a beautiful palette utilising a mix of deciduous plants – in keeping with her comfort zone of southern gardens, with a mix of more sub-tropical plants. The plant palette chosen includes weeping deciduous foliage, along with a central feature within the garden that has lighting positioned in a way that highlights and maximises the sculptural effect of the tree on the walls.
The challenge with this small block was to have maximum green effect in a minimal space. This final landscape gardens design is refined, contemporary and minimal to stay true to the modern and sleek, architecturally designed home. Dressed in layers of green, the result is a functional, private outdoor space that ensures the home's interiors, enjoy a verdant outlook all year round.
This property's name is 'Aruma', meaning 'happy place' and our clients' favourite colour,
yellow. While flower colour is minimal, we have incorporated some yellow flowers, to
create 'happiness' throughout.
We were fortunate to have been engaged prior to the new house being built, which enabled us to work alongside the house builder to plan for pipework, lighting access and also to allow us to fully build the soil profile for the lawns, the garden beds and the podium planters.
JUDGES COMMENTS
"This Hawthorne project showcases clean lines and perfectly placed planting. The combination of these elements come together to form a modern residential landscape where the planting is the champion. Masses of growth since the completion of the project demonstrates just how well the construction was executed."